Design skills of automotive mold manufacturing
23-11-2021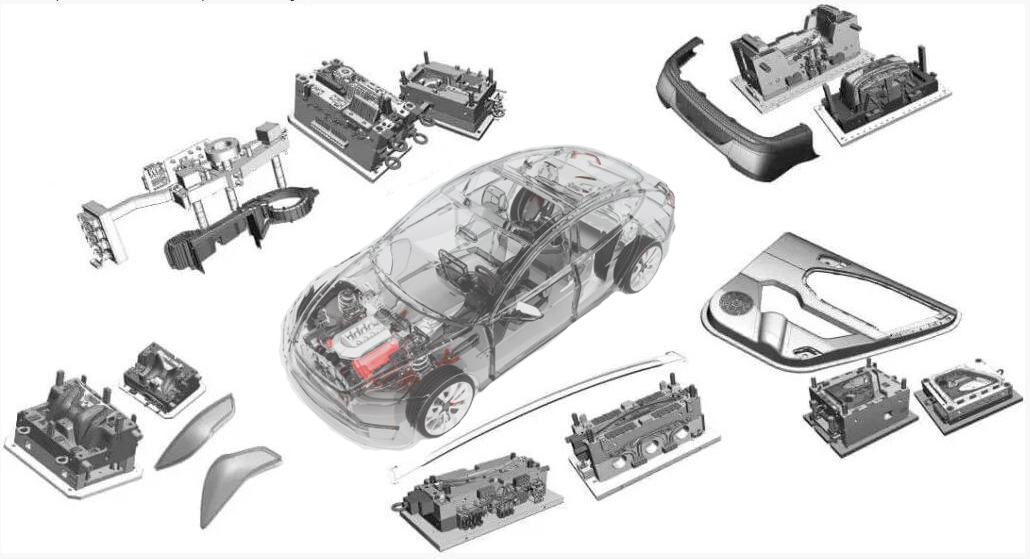 Because of the rapid development of the automotive industry recently, automotive molds have also entered a rapid development track, and the demand has increasing sharply. The vehicles have a large portion of plastic parts in their structure, to meet the functional requirements, we should continue to innovate our technology on automotive mold making.
Generally, automotive parts can be divided into two different types. We divide them by their measurements. The large components, like door trims, bumpers, and engine convers, these part are often used as appearance part, which has higher requirements for the aesthetics. In the mold design, we should set the parting surface and demolding mechanism at the back of the product to avoid the visible marks on the surface. At the same time, we can apply some auxiliary treatments, such as texture, to improve its scratch resistance. Other key points of large scale mold manufacturing are the mold temperature and cooling system, it is important because it controls the fluidity of the melted material, and it decides the feeding speed of the melted material.
Another type of the plastic parts on the car are precision functional components, these products have higher standards for structural functions, they are placed inside the functional system. For the design of these parts, the most important sector is to ensure the accuracy of the product dimensions. Moreover, it is necessary to design the mold with the shrinkage rate of the appointed material to further ensure the dimensional stability. We must remove all the possible factors from the thick wall thickness, and keep the surface smooth and strong.
Shanghai Future Mould is a mold supplier specializing in automotive mold making and automotive parts molding. We can also provide supportive services, such as electroplating, printing, etc. to ensure the integrity of the whole project. At present, our company has launched in-depth cooperation with many world-class automotive suppliers, for providing them qualified injection mold, and product processing, as well as product design support. If you need any support from us, you can contact us by email directly for help.